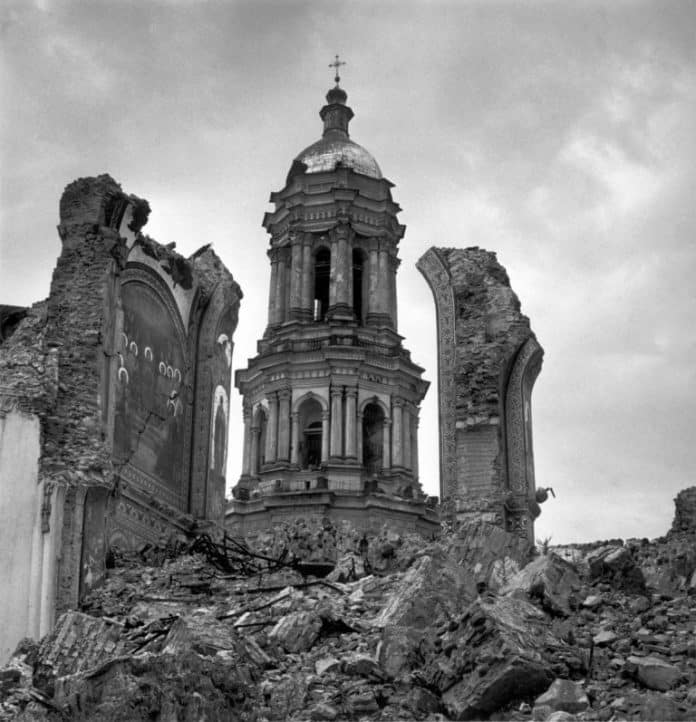 "We went from this little plaster city, so new that it has not even been built yet, to the ancient monastery on the cliff. Once it had been the center of the Russian Church, and one of the oldest religious structures in Russia. It had been magnificent, its buildings and its paintings dating from the twelfth century. But then the Germans came, and this monastery had been the repository of many of the treasures of the world. And when the Germans had stolen most of the treasures, they destroyed the buildings with shell fire to conceal their theft when they left the city. And now it is a great pile of fallen stones and tumbled domes, with little bits of wall paintings showing through. And it will not be rebuilt, it couldn't be. It took centuries to build, and now it is gone. The weeds that follow destruction have sprung up in the courtyards. In a half-ruined chapel, in front of the destroyed altar, we saw a ragged figure of a woman lying prostrate on the ground. And through an open gate, where once only the czar or his family could pass, a wild-eyed, half-crazed woman walked, crossing herself monotonously and mumbling.
Check out my new hardcover book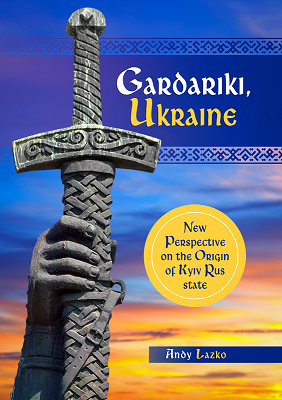 One part of the monastery still stands, a chapel where for centuries only the czar and the nobles were permitted to worship. It is heavily painted, a dark and gloomy place. And each worshiper had his little carven stall, for this was the place of a very select religion, and it was easy to see in one's mind the old nobility, sitting in gloomy concentration on a noble future and on a noble heaven, a heaven which was probably as gloomy as this church, with its incense-blackened ceiling and its glimmering gold leaf. And Capa said, 'All good churches are gloomy. That's what makes them good.'
There is an older church in Kiev, one of the oldest in the world, that was built by Jaroslav the Wise in 1034, and it is still standing, probably because there was nothing of value to steal in it, and so the Germans let it alone. But it, again, is a high, gloomy place.
In a little side chapel, in a small houselike sarcophagus of marble, is the body of Jaroslav the Wise. It is the tradition that Jaroslav had an accident in battle and broke his leg. And his body lay for over a thousand years in the little houselike sarcophagus, and recently the casket was opened, and it was found that the skeleton in the casket had indeed had a broken leg, and everyone was happy, for this was really Jaroslav the Wise. The gloom of the churches threw a gloom upon us."