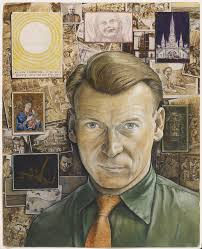 *Kurelek, William [Kurylyk, Vasyl'], b 3 March 1927 in Whitford,
Alberta, d 3 November 1977 in Toronto. Painter. Son of a Ukrainian
immigrant farmer, he was raised in rural Manitoba, attended high school
and university in Winnipeg, and then studied art at the Ontario College
of Art and the Instituto Allende in Mexico. During his stay in England
(1952-9), he was hospitalized for chronic depression and found solace in
the Roman Catholic faith. After visiting the Holy Land (1959, 1964 ), he
depicted the Passion of Christ in a series of 160 paintings, which he
considered to be his most important work. His most popular works,
however, were paintings of life on the prairies. He created a series of
intricate works depicting various ethnic groups of Canada, among them
Ukrainians, Poles, Irish, Jews, and Eskimos. His personal and artistic
development is outlined in his candid autobiography Someone with Me
(1973; rev edn, 1980). At least 17 volumes of his plates and illustrations
have been published, including the award winning A Prairie Boy's
Winter (1973), Lumberjack (1974), The Passion of Christ (1975), and
Fox Mykyta (1978). Kurelek has been the subject of several films and a
biography by P. Morley (1986). His realistic and symbolic works convey
through vivid col ors and simple lines an intense, personal vision.
Leading art critics called him the Breughel of the North. His works are
on display in 15 museums and galleries in North America, including the
Museum of Modern Art in New York, the National Gallery of Canada in
Ottawa, the Art Gallery of Ontario in Toronto, and the Kurelek Art
Gallery in Niagara Falls, Ontario.—S. Hordynsky
Source: Encyclopedia of Ukraine: Volume II: G-K. PublisherToronto : University of Toronto Press, [1988] ©1988.